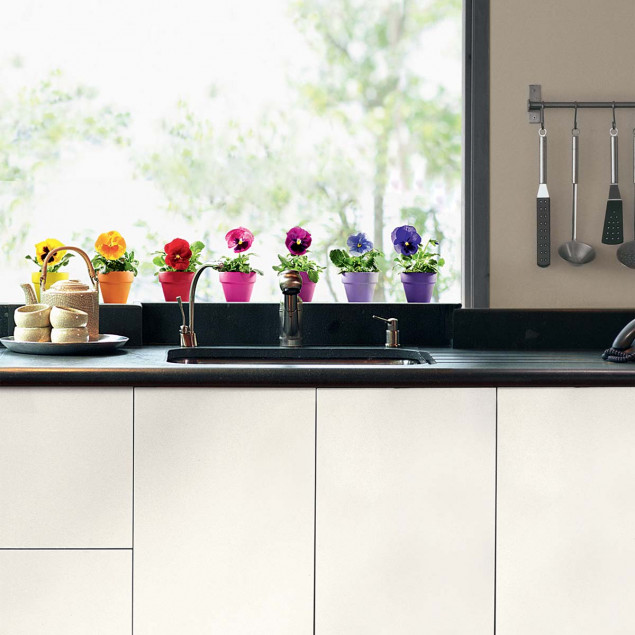 Multicoloured pansies window sticker, 7 flower pot
5 reviews
With these wall stickers, you can have flowers in your home no matter the season. Brighten up the windows of your home with these seven little flowerpots in bright colours. Printed on both sides, the finish will be remarkable whether youoere inside or outside. This sticker will be right at home on living room and bedroom windows and on any other glass surfaces in the house. They can be applied and removed without leaving any marks. An Atelier Nouvelles Images creation.
You may also like
Product details
Product details
1 planche 24X67cm
7 stickers
Adhésif en polypropylène
Très facile à poser et à enlever
Adhère très facilement par effet ventouse sans colle
Repositionnable à volonté
Lavable
Impression en offset UV des deux côtés pour un rendu aussi beau à l'intérieur qu'à l'extérieur (si pose sur fenêtre)
Édité et imprimé par Nouvelles Images
Designé en France
Size: Medium
Couleur: Grey
Delivery and returns
Already seen
Avis clients
Avis clients
3/5
Belles pensées, mais jaune et rouge absentes. !!
5/5
Rendu impeccable. J'ai des fleurs en pot à ma fenêtre sans avoir besoin de les arroser.
5/5
J'ai déjà décoré trois logements avec ces ravissantes pensées. L'effet déco est immédiat ! Nouvelle commande pour une amie.
5/5
4/5